Disaster Relief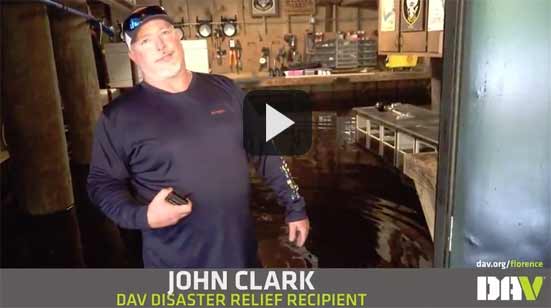 Our Disaster Relief Program supports veterans, service members, surviving spouses and their families during times of great need in the aftermath of isolated/large-scale disasters. This year we have seen historic wildfires in California, a destructive volcanic eruption in Hawaii, and Hurricane Florence rip through the Carolinas. These are just some of the disasters we have provided aid for. The dedicated effort of our NSOs and members has resulted in almost 1.1 million dollars going to help victims of these unfortunate circumstances already in 2018.
DAV disaster relief grants may be issued for the purpose of providing financial aid, food, clothing and temporary shelter. DAV supply kits – which include backpacks, blankets and hygiene kits – are also provided, providing an additional resource for safety, comfort and self-sufficiency in an extended emergency, disaster or evacuation. The hygiene kit includes basic necessities like a toothbrush and toothpaste, razors and shaving cream, hand sanitizer, deodorant, shampoo and soap.
Media Inquiries
Contact a Member of our Communications Staff
By Phone: 859-547-3382
The above phone number is exclusively for press inquiries. If you are not a member of the press and you have a question about DAV's services, please call 877-IAM-AVET or 877-426-2838
CRITERIA
To be eligible for a DAV disaster relief draft and supply kit for an isolated or large-scale disaster, which is limited to one per family per disaster, the following criteria must be met:
The applicant must be an ill, injured or wounded veteran or the spouse thereof (same household); or a surviving spouse in receipt of Death Compensation or Dependency and Indemnity Compensation (DIC); or a surviving spouse of a former Prisoner of War (POW); or a surviving spouse of an ill, injured or wounded veteran whose life was lost in the recent disaster.
The applicant does not need to be a member or in receipt of service connected compensation to be eligible.
The applicant must be the victim of either an isolated or large-scale disaster.
The applicant must be in immediate need of financial assistance, at the time of the disaster, as they do not have available funds to pay for acquired expenses. Example: Veteran is covered by homeowners insurance, but will not receive compensation from the insurance for the incident until several days out.
"With the assistance I received from DAV, which was within a short time frame, I was able to get shoes, clothing and needed items to be able to function and work once I was able to get there. It made me very proud to be a member."
– Army veteran, Richard Dunn, Hurricane Harvey
"It helped us with food and everything. We just had a few things from our freezer, getting ready for winter time, and it all burnt."
– Mark White, Rexford, Montana, Wildfires Disaster Relief
DONATE
When disasters strike, DAV and its team of National Service Officers are on the ground to help our nation's heroes. DAV provides relief through financial assistance as well as supply kits to veterans and their families so they can obtain basic necessities such as food, warm clothes and shelter. In 2018, DAV provided 3,569 relief drafts totaling over $1.2 million and 305 supply kits. Your gift will help ensure we are able to continue to support our nation's heroes during trying times such as these well into the future.
Click link below to donate to DAV's Disaster Relief Fund
Copyright © DAV, All Rights Reserved. The Disabled American Veterans (DAV) is a 501(c)(4) tax-exempt charity, IRS EIN 31-0263158. All contributions to DAV are tax-deductible according to IRS regulations.