Posted on Mar 11, 2021 By Mary Dever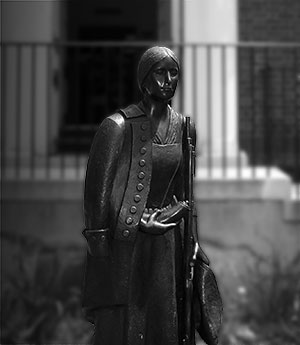 Johnny Isakson and David P. Roe, M.D. Veterans Health Care and Benefits Improvement Act of 2020
In December, the Johnny Isakson and David P. Roe, M.D. Veterans Health Care and Benefits Improvement Act passed the House and Senate with broad bipartisan support. This 340-page omnibus bill contains numerous provisions that have been long-standing legislative priorities for DAV, among the many measures to provide support to the veteran community.
The legislation includes 22 key provisions from the Deborah Sampson Act (S. 514/H.R. 3224) aimed at enhancing health care programs and services for women veterans and improving access. Specifically, the legislation mandates the creation of the Office of Women's Health within the Department of Veterans Affairs, requires the establishment of a comprehensive VA policy to end sexual harassment and assault in VA facilities, and dedicates $20 million to retrofit VA medical facilities with appropriate spaces for women veterans. Additionally, the bill will expand treatment and counseling for sexual trauma, authorize child care and legal services for certain veterans, and require improvements to the VA's Women Veterans Call Center.
"Many of these provisions in the original Deborah Sampson Act came from the recommendations made in DAV's women veterans reports," said National Legislative Director Joy Ilem. "We're incredibly proud this legislation was enacted, and we're grateful to the House and Senate Veterans' Affairs Committee leaders who have helped to champion change for the women who have served."
Also included were provisions to aid homeless veterans and veterans affected by the COVID-19 pandemic, including easing the federal grant process to help support shelters accommodating veterans under social distancing guidelines. The bill also requires the VA to publicly account for coronavirus cases and deaths that have occurred within state-run veterans homes.
Additionally, key provisions in the bill require the VA to provide Disability Benefits Questionnaires online; lower the age, from 57 to 55, at which a surviving spouse may remarry and still maintain Dependency and Indemnity Compensation benefits; and eliminate the 12-year delimiting date for disabled veterans (discharged after Jan. 1, 2013) to receive counseling, training and benefits under the VA's Veteran Readiness and Employment program. Altogether, this bill is drawn from over two dozen veteran-related bills that were introduced during the 116th Congress.
Learn more
Follow along with updates to this and other legislation affecting veterans and their families by joining DAV CAN (Commander's Action Network) at davcan.org.