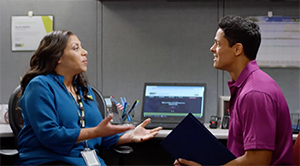 The signing of the Honoring our PACT Act into law is a signal to thousands of veterans to pursue their toxic exposure claims with the VA beginning right now. But that is just half of the battle. Many exposed veterans will need a nudge to even think about their own history with military toxic exposures.
We must make sure they know DAV provides free VA benefits claims assistance, and that attorney advertisements offering to help are far from a veteran's best or only option.
As always, DAV stands ready to help with no fees or gimmicks. I strongly encourage veterans to talk with one of our benefits advocates. It's important that veterans know that this is not only for them, but also to ensure their family does not have to bear a heavy burden in the future because of unforeseen medical conditions.
DAV brought the issue of burn pits to the public's attention, fought for this legislation and will continue to be there to help veterans exposed to toxic exposures receive justice for their sacrifices. Stay on top of news about how the VA is planning to handle the claims. DAV's website and social media pages are great places to start.
With the signing of the law, asthma diagnosed after service is covered, as are respiratory cancer of any type, brain cancer, Constrictive bronchiolitis or obliterative bronchiolitis, emphysema, granulomatous disease, interstitial lung disease, pleuritis, pulmonary fibrosis, sarcoidosis, chronic rhinitis, chronic sinusitis and glioblastoma.
The legislation will cover chronic bronchitis and chronic obstructive pulmonary disease, head cancer of any type, neck cancer of any type, gastrointestinal cancer of any type, reproductive cancer of any type, lymphoma cancer of any type, pancreatic cancer, kidney cancer and melanoma.
The legislation doesn't just affect those exposed to burn pits in our most recent wars.
New locations were conceded for Agent Orange exposure in Thailand, Laos, Cambodia, Guam or American Samoa and Johnston Atoll. Hypertension will be covered under Agent Orange exposure.
The new law also calls for the study of jet fuel on veterans' health outcomes, so watch for the future publication of those results as well.
Talk to veterans today about reaching out to DAV for assistance filing a claim. Finding your local service officer is easy by visiting www.benefitsquestions.org.