Advocates come together in Washington to set record straight and protect benefits
Hundreds of DAV's most dedicated advocates from around the country converged on the nation's capital at the end of February for the organization's Mid-Winter Conference, sponsored by the State Commanders and Adjutants Association, and to kick-start Operation: Keep the Promise 2016.
With reform of the Department of Veterans Affairs health care system on the agenda for Congress this year, it is an especially critical time for veterans' voices to be heard by all lawmakers and candidates for office. Leading up to the 2016 Mid-Winter event, DAV focused on explaining the facts, debunking the fiction and outlining the next steps for strengthening veterans health care and benefits delivery systems for the future. Our advocates then took that message to Capitol Hill.
"Our message must be clear: We are veterans. We take care of veterans. And we expect our government to do the same for those who have sacrificed, and for their families and survivors," National Commander Moses A. McIntosh Jr. told the conference attendees at the opening session Feb. 21 in Arlington, Va.
State Commanders and Adjutants Association President Warren Tobin convened the four-day conference.
"This year's Mid-Winter was a wonderful opportunity to gather together and learn about DAV's key legislative priorities for 2016 and show support for National Commander McIntosh during his testimony to Congress," Tobin said. "It is important that we assemble in D.C. so that we can inform our legislators about the needs of our nation's disabled veterans and educate all of our members of Congress about DAV's legislative priorities."
DAV and DAV Auxiliary members held dozens of meetings over three days, speaking directly to senior members of Congress and their staffs.
"No matter the era or branch we served in, man or woman, young or old, we have sacrificed for this nation," McIntosh reminded the conference. "We have upheld our end of the contract, and now Congress has to ensure they stay true to it as well. Remember, this isn't about getting more, it's about securing what was earned and what was promised."
The swell of interest surrounding veterans' issues over the past two years has been remarkable.
"Frankly, it's not something we should ignore," National Adjutant Marc Burgess said at the opening session. "If you've watched the news, paid attention to the presidential election cycle, picked up a DAV Magazine or received an alert or newsletter from the national organization, you know this year we stand at a critical juncture when it comes to the future of our health care system.
"We continue to move forward ambitiously, and your presence here is always one of the most important ways we can put a face on these issues and show lawmakers their actions affect real people—real veterans—and their families each and every day," Burgess added.
Leading up to the visits to Capitol Hill and the National Commander's testimony, DAV representatives attended a series of seminars in Arlington. The first up was DAV's Benefits Protection Team workshop, hosted by National Legislative Director Joy Ilem.
"Our success in pushing for and seeing legislative changes in Washington remains dependent on the continued strength of our nationwide grassroots movement," Ilem said. "Now is the time to become proactive, to prepare—before others decide it is a good idea to dismantle the VA or take away hard-earned benefits and services from those who have served and sacrificed for this country. We are all responsible to help ensure that our government upholds its promises made to our nation's veterans and their families."
Veterans health care reform was the primary focus of the advocacy workshop. Other key priorities were addressed as well, including improving benefits and services for caregivers and women veterans.
Those are two areas where DAV has led the way. In large part thanks to DAV members' continued involvement and support, the Senate is moving forward on legislation to expand caregiver support, and the House passed several women veterans bills based on recommendations from DAV's 2014 report "Women Veterans: The Long Journey Home." "But these bills are only halfway to the finish and still need our push to bring them into law," Burgess said. "These bills represent many of you, as well as many of the men and women within your own Chapters and Departments.
"We stand up for our rights and benefits when they are threatened," Burgess continued. "All too often, those negotiating our future are individuals who have never put on the uniform. We are not and must not be willing to accept changes borne out of backroom deals—not when it comes to something as sacred as what veterans earned through their service to this nation."
VA Deputy Secretary Sloan Gibson addressed the conference Sunday morning, detailing the ongoing reform he and VA Secretary Bob McDonald have been leading since taking the helm in 2014.
"Bob and I have visited hundreds of VA facilities in less than two years," Gibson said. "We visit with frontline staff at every facility, and I'll tell you what we find: employees who care deeply about our mission, who do the right thing and who work hard every day serving and caring for our veterans."
He also acknowledged that accountability has been an issue for those engaging in misconduct. "For a lot of folks, this is about how many people we've fired," Gibson said. "But I have to say, in all my years in the private sector, I've never encountered an organization where leadership was measured by how many people you fired. There's a simple reason for that: You can't fire your way to excellence.
"To turn any organization around, you have to inspire people to do better, and you have to recruit new talent," he continued. "And you can't do either by capriciously punishing people on the basis of rumors, innuendo or press reports. We are holding people accountable and firing those whose actions warrant firing—2,400 in just the past 18 months for misbehavior or poor performance. We're also taking other disciplinary actions, appropriate to the offense and supported by evidence that, we hope, will withstand appeal."
Gibson also spoke of the unacceptably long wait times currently associated with claims appeals.
"Veterans deserve timely appeals decisions produced by a process that is fair, transparent and easy to understand," he said. "The current system is failing veterans. The status quo is not an option. We think veterans deserve an appeals decision within a year."
The National Service Department brought in VA Acting Under Secretary for Benefits Danny Pummill to update conference attendees on reform of the claims process, the serious backlog of appeals and DAV's important role in electronic and fully developed claims filings. Pummill said DAV has the highest quality claims, files more electronic claims and more fully developed claims than any other organization. He noted DAV's careful work with so many veterans is saving the VA many resources, allowing his personnel to focus on adjudicating claims rather than developing them.
VA Under Secretary for Health Dr. David Shulkin also addressed the conference. He spoke about efforts to fix access and employee issues, develop a "high-performance network," and restore veterans' trust and confidence in the VA health care system.
The presentations from DAV leadership, the deputy secretary and both under secretaries were broadcast live online and are available on DAV's YouTube channel at youtube.com/DisabledVeterans.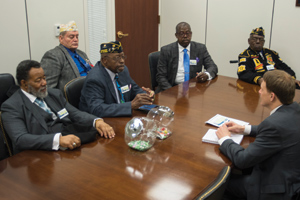 The conference crested on Feb. 24, when National Commander McIntosh testified before a special joint hearing of the Senate and House Committees on Veterans' Affairs. Veterans and supporters packed the caucus room to maximum capacity in the Cannon House Office Building for the hearing.
"We do not believe that simply increasing funding by itself—without making some significant reforms in VA—will lead to better health outcomes for veterans over the next 20 years," McIntosh testified. "However, no VA reform plan has any chance of success unless sufficient resources are consistently provided to meet the true need and demand for services, when and where they need them."
McIntosh pointed to findings from a recent independent study of VA health care. The assessment's analysis of the VA's quality of care confirmed what we, other veterans organizations and most studies have found: "As veterans gain access to VA care, the quality is high."
Only when it came to "patient-centeredness" measures did the VA not fare as well as the private sector.
"This is reflective of an issue we consistently hear from our members across the country about their frustration with a system that does not adequately involve them in decisions that will affect the design and delivery of their care," McIntosh said. "We believe that implementation of the MyVA initiative will go a long way toward improving patient-centeredness,
the veteran's experience and satisfaction with VA health care."
McIntosh testified that the best path forward for a 21st-century veterans health care system needs to build upon the strengths of the VA—including its expertise treating the unique conditions of injured veterans—while also reforming systemic problems that have hindered the delivery of timely care.
For the past year, DAV has been working with other leading veterans organizations and experts to develop a new direction for veterans health care reform.
"We are doing all this from a perspective of veterans who use, volunteer and work in the VA health care system," McIntosh said.
"If we don't speak up, if we don't voice our opinions on what is working—as well as what isn't—others will not hesitate to make the decisions for us, and we may not like the outcome," Burgess told DAV and Auxiliary members. "It's not enough to stand by and listen. We must remain active in the conversation."
"We need you to be DAV's ambassadors," McIntosh told convention-goers. "Take what you learn and experience at Mid-Winter this week home with you, spread the message and invite your fellow veterans to join by our side. It is through our ranks nationwide that we move closer to achieving our goals."
Learn more online:
More on how to advocate with DAV can be found at dav.org/grassroots. Information on DAV's efforts to reform veterans health care is available at dav.org/operation-keep-promise-2016.